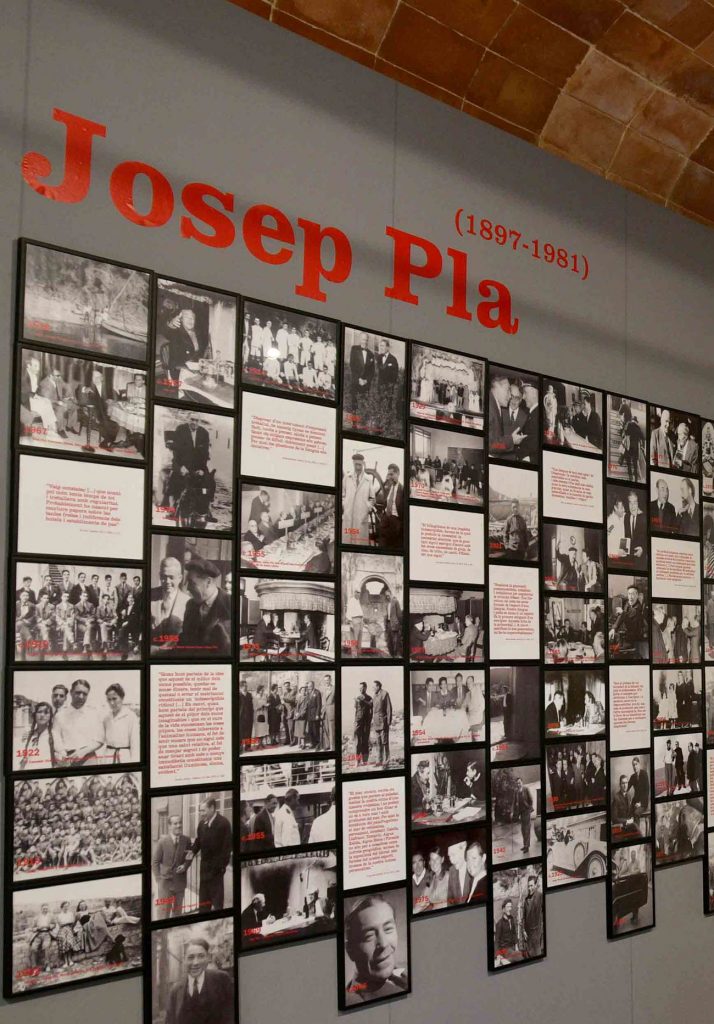 Josep Pla (1897 – 1981) is the title of the permanent exhibition, situated in the house (carrer Nou Nº 49, Palafrugell) where the author was born. It is a divulgent exhibition which explains the author's literary and journalistic journey, together with that of his life, within the framework of the historical evolution of the 20th century.
Audiovisual Josep Pla, viatger. Leopold Pomés, 1991
Entrevista A Fondo de Joaquin Soler Serrano, 1976
"Les fotografies meves em fan por i no pas per la quantitat més o menys grossa de vanitat personal que poden contenir, sinó per l'aclaparadora semblança que tenen amb mi mateix: la mobilitat de les faccions, la projecció externa dels sentiments, la gesticulació excessiva, la impossibilitat de mantenir-me en un to i una fredor plausibles."
Josep Pla. Notes disperses. OC XII, 375.

"I was born in Palafrugell (Lower Ampurdan) on 8 de March 1897. My family is entirely from the Ampurdan. The landscape of my life encompasses Puig Son Ric, in Begur, in the east; the Fitor mountains, in the west; the Formigues Islands, in the south; and Montgrí, in the north. I have always felt this is a very old country. All sorts of wandering people have passed this way."
Josep Pla. The Gray Notebook. New York Review Books, 2013, 4.
Audiovisual
Josep Pla, viatger.
Leopold Pomés, 1991, 24′
Primera volada
(1897 – 1919)
"One day, without knowing how, I found a pencil and notebook in my hand.  I began placing adjectives in front of every pine wood, every field, every stretch of sea. I tried to write down the feelings that this vision of diverse lands and scattered blue seas produced in me. Each time that I started these exercises, I felt suffused by an ideal warmth. I will never fall so much in love with any goddess, nor with any melody, like I fell in love with those things. Blinded, I came to suppose that it would be easy to possess them. Poor me! Sometimes, with the first line only half-finished, I would rip up the sheet. I would go back and try again… And again. The uneasiness of the attempt, a succession of states of apparent joy and real despair, filled my afternoons. The fact was that I was already gripped by the puerile and ridiculous obsessiveness of this bitter trade."
Josep Pla. El meu país. OC VII, 475.
"Journalism has one good thing about it: it opens a vast field to observation and gives rise to widely varied points of human contact, sometimes full of interest. For those with a propensity for roaming around, for feeling like a cloud, tenuous and inconsistent, that passes momentarily over the earth —and this is my case— it is permitted, even when the very sign for money takes on a certain hardness, to travel ad libitum. In some of life's stages I have felt this displacement in an almost morbid way -I have been an errant man, a stray. […] I became a continental drifter, and that brought me to try many cuisines, to sleep in innumerable beds, to speak with many people. I wrote a lot during this time."
Josep Pla. La vida amarga. OC VI, 7.
Cartes de lluny
(1920-1938)
"After so much roaming around the world and so many useless troubles, it was time to stop for a moment and rest a little. The decision was good: I went for fifteen days and after a year I was still there, far from hunger, work or worry.
In Fornells at that time there wasn't even a church, or a public clock, or an administrative office, or any incarnation of legal authority."
Josep Pla. Aigua de mar. OC II, 11.
"The writer today gets close to reality, the marvellous, enormous, mysterious reality that turns around us and which we turn over in our minds, and only that literature which bases itself on the real and seeks out intimate feelings is accepted as true."
Josep Pla. Coses Vistes. Ed. Selecta, 1949, p. 13.
Coses vistes
(1948 – 1965)
Notes de capvesprol
(1966-1981)
"Now that I am horribly old —eighty-two years old— and have enough perspective, I must confess that I wouldn't have known how to do anything else but write. […] My writings have allowed me to face up to the things that I like: to describe a landscape, the enigma of the sea, to observe the thoughtlessness of men and women, to find an adjective in the flight of a bird, in the curves of a young woman, what to say about the petulance of a flower. I don't know what the outcome of all this is, but it can be found in the immense paperwork that you have before you and which constitutes my Complete Works.  Almost nothing, my entire life."
Josep Pla. Per passar l'estona. OC XXXVI, 7-8.
"The only way to fight against the terrible invasion of forgetting, to create a collective memory, is to remember, indefatigably, what certain men —that's to say, the people— have done in going a little beyond their immediate and trifling personal interests."
Josep Pla. Homenots. OC XVI, 7.
"I form part of a specific tribe. This tribe occupies a specific geographic area, has an absolutely personal way of looking at the world, speaks a specific language, a poor one, underdeveloped, miserable —constituting what is now beginning to be regarded as a linguistic area."
Josep Pla. Notes disperses. OC XII, 575.
"Objectively speaking, it's highly unpleasant to feel one has nothing much to look forward to —in respect to women, money or ever making a mark in life— beyond this secret, devilish, maniac need to write (with so little to show), to which I sacrifice everything and will probably continue to sacrifice everything in life. I wonder: What's better: a halfhearted, resigned, mediocre passage, or living with this passionate, tense, relentless obsession?"
Josep Pla. The Gray Notebook. New York Review Books, 2013, 303.
Entrevista A Fondo de
Joaquin Soler Serrano
1976, 80′
"Nací, como solía pasar entonces, en casa. Claro que la gente de aquí tiene una gran tendencia a que sus hijos sean muy importantes… ¡Imagínese usted, me dieron carrera!… Equivocado totalmente, tenía que haber sido un payés, para arar, para arreglar las viñas y los olivos… "
Soler Serrano, J. Conversaciones con Josep Pla. Destino, 1997, 218.