1939-1947
Aigua de mar - "Sea Water"
Feeling burdened by past political events and the European war, Pla lived for some years in a sort of inner exile in different locations on the Costa Brava (Fornells, L'Escala, Cadaqués etc.). Those were years of meditation, of searching for a sense of the identity, of misanthropy, of finding his sole consolation in the landscape. Pla became consciously settled, voluntarily isolated. He wanted to talk to the simplest villagers: the fishermen, the farmers, the craftsmen. He travelled all over the country, on foot, by coach or by train. Little by little, the view of the landscape delighted him and transmitted to him some sort of sensual pantheism, without any religious sense, which was transformed into enthusiasm for reality. In the literature he produced during those years, he emphasised the discovery of the closest reality, the landscape and the sea; everything narrated with a marked subjective accent which shows the beginning of his brilliant literary maturity.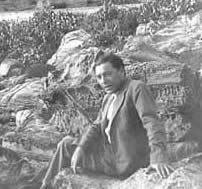 Josep Pla in La Marineda. Calella de Palafrugell, 1940. 
Fundació Josep Pla, col. Josep Vergés.
In 1940 he started to contribute regularly to the weekly magazine "Destino" becoming one of its most important promoters and ideologues. Those were difficult years of collaboration with the new regime and years of self-criticism. He made his living from literature and journalism alone. Some assigned work, biographical books and travel books were published at that time. He gave up the project of becoming a writer in Spanish. From the platform which the magazine "Destino" offered him, Pla slowly rediscovered Catalan readers and once more came into contact with all sectors of Catalan culture. As soon as the censure let him, he started publishing books in Catalan again, the language in which they had been conceived and first written.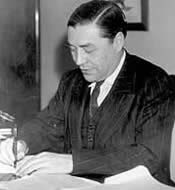 Josep Pla in the editorial department of Revista Destino. Barcelona, 1942.
Fundació Josep Pla, col. Josep Vergés.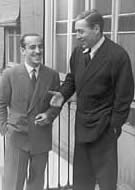 Ignasi Agustí with Josep Pla in front of the editorial department of Revista Destino. Barcelona, 1942. 
Fundació Josep Pla, col. Lluïsa Sadurní
1939
Once the civil war has finished he becomes one of the provisional directors of "La Vanguardia" (January- April). He moves to Fornells (Begur). His relationship with Adi Enberg comes to an end.
1940
He begins his weekly contribution to the magazine "Destino" (till 1976). He lives in L'Escala. He enters into a relationship with Aurora.
1940-1946
His work Historia de la Segunda República Española (The History of the Second Spanish Republic) is published in Spanish. In addition, the following works are published: Costa Brava. Guía general y verídica (Costa Brava. General and Truthful Guidebook), Las ciudades del mar (The Cities of the Sea), Viaje en autobús (A Journey by Bus), Rusiñol y su tiempo (Rusiñol and his Times), Humor, honesto y vago (Humour, Lazy and Honest), El pintor Joaquín Mir (The Artist Joaquín Mir), La huída del tiempo (The Escape of Time), Un señor de Barcelona (A Man from Barcelona), and Vida de Manolo (Manolo's Life).
1943
He starts a weekly contribution to the "Diario de Barcelona".
1946
He lives in Cadaqués. He starts his relationship with Consuelo.
1946-1947
Cartes de lluny (Letters from afar), Viatge a Catalunya (Trip to Catalonia) and Cadaqués are republished in Catalan.
1947
He lives between L'Escala and Llofriu.